For deep sea offshore saltwater fishing in Southwest Florida, ReelFishNSea Charters is the preferred choice of serious fishing enthusiasts.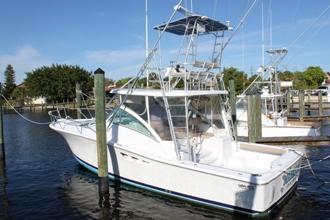 You want to catch serious fish…lots of them. You want to do so safely and reliably. And you might even be taking along someone who is concerned about comfort. We understand.
To return with the biggest catch, you must have a locally experienced fishing guide. You must have the right equipment. And you must know where the fish are.
These days everyone uses GPS to mark the best fishing spots. But GPS is a recent technology. In the old days fishing guides used other methods, such as Loran, to haul the biggest catch. We have obtained secret databases compiled by veteran fishing guides over decades and we have invested in the software to convert this data to GPS coordinates…resulting in an experience you will never forget. With us, you catch fish!
Our experienced fishing guides will bring you to the best fishing spots and provide you with the right gear for the fish you want to catch. We provide the bait, the poles and reels and everything you need to have the best saltwater fishing experience anywhere. If you wish to take your catch home, we have the ice to store your catch and we can fillet the fish for you. We can even recommend restaurants that will cook it up for you the same day!
Safety, reliability and comfort are always our concern. Our offshore fishing boat is built for deep sea fishing with twin diesel engines maintained in top condition. Never risk going out to sea in a single engine boat! And when you need the restroom, we have it.
Deep Sea Fishing Charter Photo Gallery
Sound good?
View our rates and reserve your next offshore deep sea fishing adventure now: