Kyle Ezerins
Residing in Florida since 1990, Kyle has constantly had a passion for outdoor activities. Growing up around the waterways of Southwest Florida allowed Kyle to become the avid fisherman, boater, and diver that he is today. Although Cape Coral is home for Kyle, he has traveled and experienced many wonders of the world. From skiing in the Swiss Alps, to diving the blue waters of Tahiti and Thailand, four-wheeling the rice fields of Bali, and snowmobiling the backcountry of Utah, Kyle's love for the outdoors is eternal. Traveling the world influenced Kyle to obtain his captain's license so that he can share his knowledge and dedication with others. Helping others have a pleasurable experience of an active lifestyle on the water is what Kyle strives to do.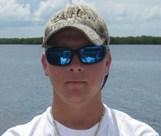 Steve Ware
Born and raised in Southwest Florida, Steve is an outdoor enthusiast. From a young age, Steve had the opportunity of spending his life growing up around the water. Fishing in the Florida Keys at a family owned KOA campground, owning a skiff as a young teen, and currently spending as much time on the water as he can, the skills that he has learned have helped him become a well-educated boater and fisherman. Air-boating through the back bay waters is also another hobby Steve enjoys. His devotion to the outdoors does not end at boating and fishing. Steve also takes pleasure in spending time in the woods riding his four-wheeler, hunting, strolling around on his swamp buggy, and wrestling hogs. Ensuring that everyone learns something that they didn't know previously, and having amplitudes of fun, is an adrenaline rush like no other for Steve.

Andris Ezerins
A certified instructor affiliated with Scubavice Diving in Fort Myers, Andris was born and raised in the Boston area and has resided in Southwest Florida for the last 11 years.  Andris knows all the best diving spots off the East Coast of Florida, in the Florida Keys and in Southwest Florida.  Andris is also an expert snowmobile guide, an avid wake boarder and international traveler
Sound good?
View our rates and reserve your next offshore deep sea fishing adventure now: