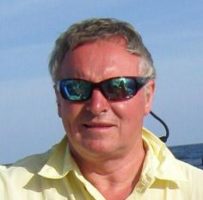 "It was a very fortunate day for me when I got talking to Steven about fishing, Steven delivers. I think he must have spent more of his life on the water than on land. He knows his stuff and teamed up with Kyle I have been on several fishing trips both inshore and offshore with them and I can honestly say what a pleasure every trip has been.
You catch fish, which after all is the main reason you go out. They know when and where to go. I've caught everything from snappers, redfish, trout, grouper and even a 150 lb reef shark and they make it a fun and an educational day out…even if your partner doesn't fish they would enjoy the day.
I wish them every success with their venture catering for all types of fishing and sightseeing. If you take my advice, don't think about it, just go. "Happy Fishing"…I recommend all my Villa Azure renters to go with them."
– Steve Booth, Sheffield, United Kingdom
Sound good?
View our rates and reserve your next offshore deep sea fishing adventure now: